Arabic Grammar by Ibn Ajurrum al-Sanhaji
Introduced by Emma Balch 
Finding myself with a couple of hours to spare on my way from Hay-on-Wye to Buenos Aires, I went to the Africa: Word, Symbol and Song exhibition at the British Library.
It was hard to choose one book from an exhibition with such a broad scope. Aesthetically, though, this was one of the stand-out exhibits for me. It is also an example of the role that manuscripts and books have played in the exchange of knowledge across the different cultures within the region.
It is a copy of a major work by the Moroccan scholar Ibn Ajurrum al-Sanhaji (1273-1323), in which he put the principles of Arabic grammar in verse form.
Many West African manuscripts are not illuminated – instead they feature calligraphic work. Arabic lends itself well to artistic expression, because of the flexibility of its letter shapes. This book, made by scribes in West Africa, is a stunning example. The five lines on each page are the original work, and the notation in smaller text was added by local scholars for teaching purposes.
This book is an excellent example of the transfer of knowledge and scholarship across the Sahara. Trans-Saharan links brought both Islamic learning and a culture of books to great swathes of West Africa, from Mauritania in the north-west to Nigeria and Cameroon in the south-east.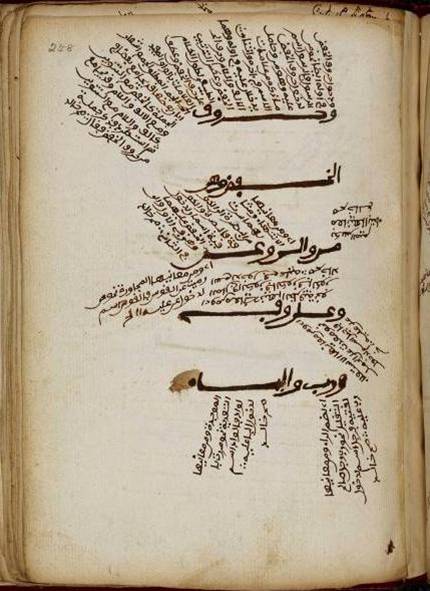 Hay-on-Wye is twinned with Timbuktu, home to thousands of mediaeval manuscripts.
Hay 2 Timbuktu:
The Tombouctou Manuscripts Project: